Short-Term Goals: Stepping Stones To Success
A Small Approach To Big Challenges
Businesses tend to focus on big milestones like revenue goals, but it's easier to accomplish things when you take them step-by-step. That's why it's crucial to set short-term goals for your home services business.
A great example would be running an ad campaign promoting services you offer that your competitor doesn't.
"This short-term promotion works toward increasing revenue, growing market share, or a variety of other long-term goals," adds Mark Sherwin, President and Co-Founder of LeadsNearby.
Let's delve into the world of short-term success and discover how it can pave the way for your business's future.
View this post on Instagram
Be S.M.A.R.T. About Short-Term Goals
"Long-term goals can be difficult to measure," says Stephanie Potter, Client Success Manager at LeadsNearby, "but short-term goals need to be something you can track."
S.M.A.R.T. = Specific, Measurable, Achievable, Realistic, & Timely.
"If you want to grow your business, hiring 2 new employees is a S.M.A.R.T., short-term goal," Mark says. "Two new employees will enable you to expand your service area, and even open a second location one day." 
Mark stresses that a second location is a big goal to hit, but booking enough jobs to comfortably add 2 salaries is the kind of thing you can track easily. "You can even put a realistic date on if you've been in business long enough."
"Short-term goals are flexible by design, which is important," says Stephanie. "If you are an HVAC company and the weather is against you, you can see in the short term that installs might be down. You can try to recoup those losses, if you will, by pivoting to maintenance. Now, if your long-term goal is to hit X million dollars this year, you can stay on pace by making the right adjustments."
Shortcut To Success?
Trick question! As we've said before, there are no shortcuts to success, but short-term goals are as close as you can get.
Whether they apply to your entire business or to a particular department, goals help you bring your priorities into focus. 
"Short-term goals tend to read like a to-do list," says Mark. "Send out those postcards, distribute door hangers, and follow up on open estimates." He is quick to add, though, "Short-term goals are often the fun ones. Do some creative guerrilla marketing! Finding a new way to reach people is a great feeling." 
Tovah Coats, Client Success Manager at LeadsNearby agrees, adding "A new way to say the same thing every business owner says is your chance to shine. Enjoy the chance to be creative." 
Stephanie says the right partnerships can create creativity. "When I have a client that finds a blank calendar overwhelming, I bring them choices they can pick from. This way, they are still creating their own path to short-term success." 
Time Is Short
This is a marketing roadmap that Stephanie uses with her clients to help them get an idea of what they need to be doing each quarter.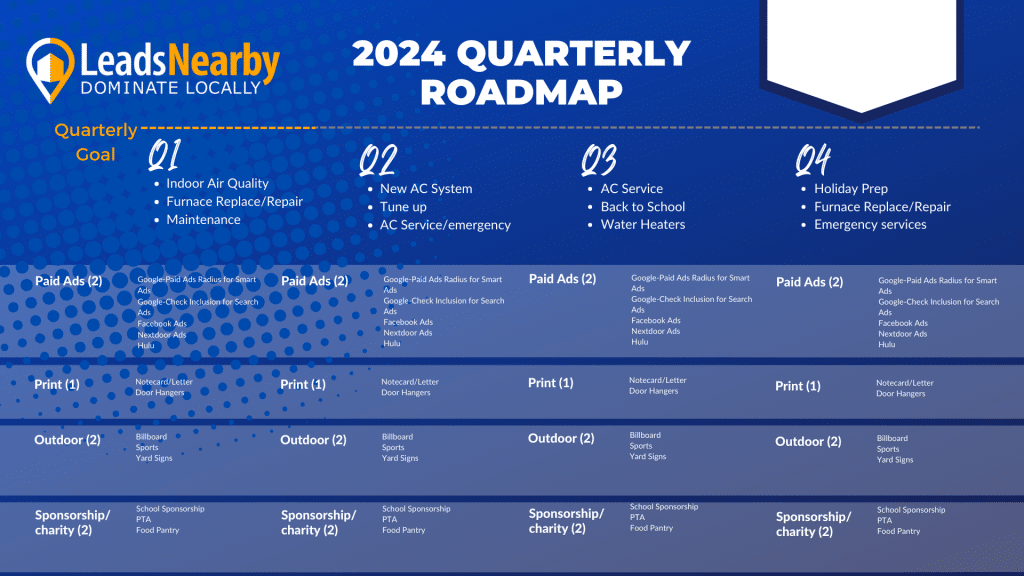 "Your five-year goals are closer than you think," cautions Mark. "Make sure short-term tasks are assigned properly because time is going to fly. If you want to increase your presence on social media but no one knows what employee is responsible for it, it won't get done." 
Mark points out that it's hard to make up for missed deadlines, so you have to avoid confusion around execution. 
"The ticking clock can be your friend, though," according to Stephanie. "I haven't had any clients miss short-term goals this year because they are invested. If you are willing to put in the work and be realistic about what you can accomplish, meeting your goals is not difficult."
Don't Short Change Your Goals
"In my experience, business owners tend to be better at one or the other," says Stephanie. "The ones who think in long-term goals often get lost in the day-to-day of running their business. The ones that are good in the short-term don't always see how to grow sustainably."
"You can't have one without the other," agrees Tovah. "Short-term goals help you achieve daily tasks, ultimately leading to long-term success. You need both." 
A lack of goals hurts your business in three significant ways:
Wasted Resources

: Investing in areas that don't help you get to the place you want to be is costly and inefficient. The only way to know for sure whether this is happening to you is to have clear goals for your business. 

Missed Opportunities

: If you don't have clearly defined goals, you have no benchmark for success. Opportunities that are valuable for your business will be indistinguishable from ones that will simply waste your time. 

Burnout and Frustration

: Your customers take a lot of comfort in knowing the timetable for their interactions with you. It puts them at ease to know what's coming and how much longer it will take. You are no different. Without a sense of time, it's easy to feel lost, leading to burnout. 
It takes all kinds! Some owners see the big picture. Some thrive in the day to day operations. Whatever you need, we have someone here at LeadsNearby who can help you find that winning balance!
Call 919-758-8420 for a free, 25-minute consultation about your marketing strategy – or contact us online . Either way, let us give you the piece that you're missing. 
Looking Into The Future
» «
The Gift Of Giving
DOMINATE
LOCALLY
Service Providers
Trust LeadsNearby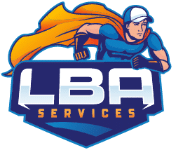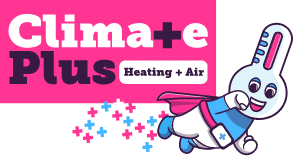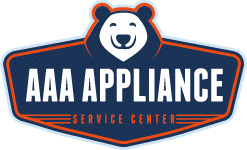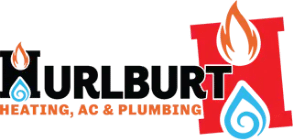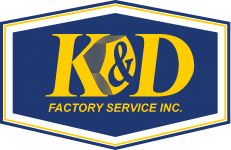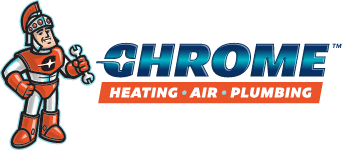 DRIVE RESULTS
/
25 Minute Consultation