A good reputation opens doors to new leads. Harness the power of your positive reputation to earn new customers.
You know that performing great customer service earns you positive reviews. But do you turn that good reputation into new leads? LeadsNearby helps you take control of your reputation and maximize it to drive new customers to your door.
Our independent, third-party verified review platform helps you gather and share reputation across the internet with:
Website Reviews
Search engines like to see reviews on your site. But when your site visitors see the five-star reviews you've earned from their neighbors, they'll like you to perform their service, too.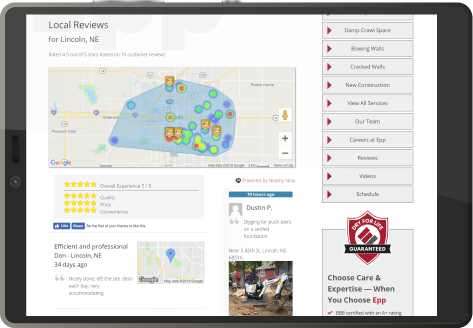 Profile Reviews
Even with Google's dominance, searchers who need your service often still turn to Directories, review profiles and business listings. What reviews will they find there about you?
Social Reviews
Today, virtually everyone shares news, videos, helpful tips and even personal information via social media. Know what else they share? Reviews. You can facilitate that process for them.
Your Online Reputation is Your Best Sales Tool
Decades ago, before turning to the yellow pages when you had a need, you turned to your neighbors, family and friends for local service contractor recommendations. Today, people share and seek opinions about your service from search engines, social media sites, review profiles, directory listings and even your own website.
LeadsNearby helps you:
Generate positive reviews from your happiest customers

Monitor what people are saying about you online

Create search-engine friendly dynamic job summaries and reviews

Insert these reviews and job summaries onto your website to boost your search traffic
When people turn to the internet to satisfy a need, will your reputation make them want to call you?