Website Design & Build
A Beautiful, Functioning Website That Delivers Results
How does your website look to a prospective client? To Google? Does it work the way it should?
A website should be a company's main hub, working with Google to bring leads, functioning for clients to provide information and offer services and helping your company operate more efficiently and effectively. If your website does not do all of these things, chances are, you need a new one.
The website design and build services provided by LeadsNearby give new life to your digital marketing goals. With a beautiful, working, smart website, you tick off all the boxes that lead to growth and success with your home services business.
Ready to put your competition in the rearview?
Get Started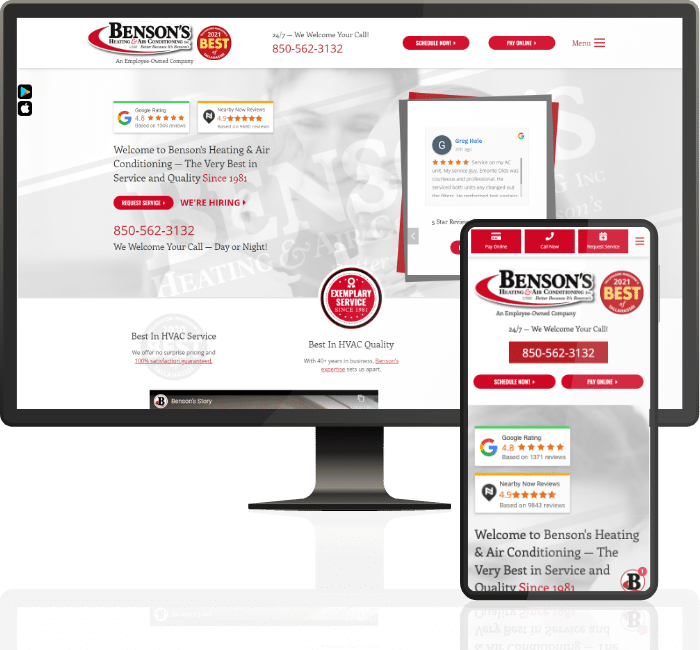 Beauty & Function
Yes, a website needs to look visually appealing as that's typically what people notice first. However, in addition to an amazing-looking website, our design and build services extend to so many other aspects of making your site a success. We can't tell you how many times we've come across a website that does not bring any value to a company, which is why we include:
Custom Programs - The use of our own proprietary tools instead of third-party programs, including scheduling, coupons, call tracking and Launch SMS, is a huge bonus for our clients. Why? A third-party program will contain extra, unnecessary code that bogs your website down. Our tools are developed from scratch, taken from features we know you love and use the most, to make your site more streamlined and easy to use.
Faster Updates & Maintenance - Because we use our own tools and systems, we can provide updates and routine maintenance faster than the other guys. This means your website is performing at its best all the time.
Enhanced Security - We offer our own in-house website hosting which employs an Amazon web service for additional operation and security. So you get the best of both worlds - an in-house hosting solution that is derived, based on and supported by Amazon.
Reliability - Because we only work for clients like you, we know and understand the importance of your online contact form. Our email delivery system is a reliable tool your clients can use to reach you every time. In addition, you can rely on our team 24/7 for any system or downtime support. So there's no waiting until the start of business on Monday if your website is not working - call us anytime for fast fixes.
Complete Website Management From Start To Finish
When you sign up for a new website with LeadsNearby, we speak with you first to see what you have in mind for your new design. We discuss who you are as a company, your colors, any features you want, the structure of the site and your brand and logo. Because our websites are custom designed, we take the time to tailor your site to your company.
Our five-star site management program includes complete site tracking and analytics, ongoing monthly changes and support. Hosting and layers of enhanced security for your website are included and our technical team monitors traffic. When you work with LeadsNearby on your website, you are truly in good hands.
Come Together Right Now
We make sure our websites address both a search engine's AND a searcher's needs. With that in mind, we develop our clients' websites to include:
Dynamic content and SEO to get visitors to your site.

Fast load speeds that keep search engines and users with you.

Easily identifiable conversion paths that connect visitors with you.

Marketing messages that inform and engage visitors.

Clear client satisfaction and trust certifications.

Integrations and tools that benefit you and your customers.
What makes a good HVAC website?
A modern HVAC website should be mobile friendly and designed with conversions in mind. If your website isn't optimized for mobile, you're likely losing a lot of potential leads. That means including strong call to actions, clear and easy to navigate forms, optimized SEO and helpful information about your products and services.
What makes a good Plumber website?
When a plumber thinks about their website, the word "conversions" should come to mind. A plumbing website is only as good as its ability to generate leads and convert those leads into customers.
What makes a good Electrician website?
It's important to have an electrician website that not only looks good, but also ranks high in search engines, is mobile friendly and converts visitors into paying customers. Electrician websites should have a modern design that is visually appealing and easy to navigate too.
Make The Center Of Your Company's Universe Your Website
How many times have you been frustrated with your company's website? Could how you look to Google and searchers be driving customers away? Connect with our team today for website solutions for your home services company.
919-758-8420