LeadsNearby builds contractor websites for Plumbers, HVAC Companies, Electricians, Roofers, Garage Door Companies, Fire & Safety Companies and other home services contractors. A successful local service contractor website or home service company website attracts search traffic, loads quickly, grabs a visitor's attention and includes multiple conversion paths for your visitors.
Our contractor web designs sit at the corner of art and technology. They strategically combine web programming, business acumen, digital marketing, brand creation and contractor SEO to build traffic and convert users.
How does your target audience perceive your business? What tone does your logo, tagline and imagery paint? LeadsNearby brings out the brand on your website so that it reflects your corporate values in a way that appeals to your website visitors.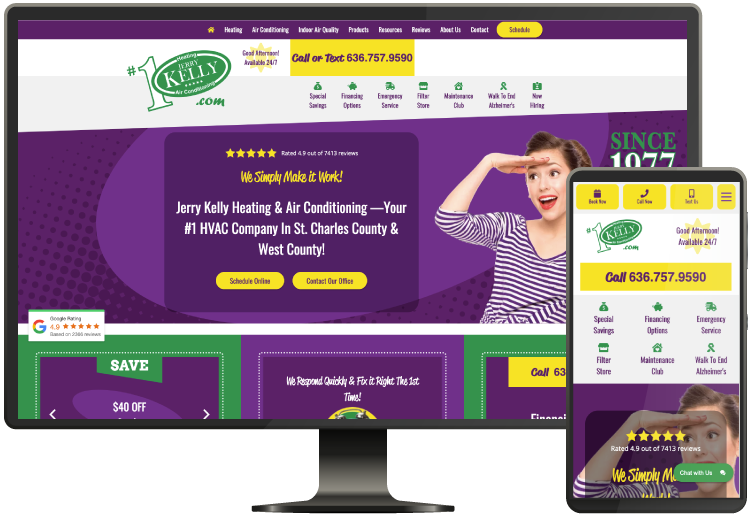 At LeadsNearby we don't "do Contractor SEO" we build SEO for contractors into everything we do! We weave the best contractor search engine optimization practices into the fiber of your contractor website. From attention-getting meta titles to conversational service descriptions, our Contractor SEO efforts are only successful when we've increased both your local rankings AND lead conversions.
Well-done content attracts, educates, converts and re-engages your target audience. LeadsNearby works with you to integrate your product and service descriptions, blog posts, resource articles and other collateral into a contractor website design that is the foundation of your entire online presence.
Contractor Websites Built With A Strong Foundation
As the first interaction many of your prospects have with your company, your contractor website needs to be on call 24×7. And it often only has a few moments to grab a visitor's interest so they stay with you all the way to initial contact.
A good contractor website addresses a search engine's needs. A great contratcor website addresses a searcher's needs. That's why we develop contractor websites with:
Fast load speeds that keep search engines and users with you

Device independence so they can be viewed on phones, desktops & tablets

Marketing messages that inform and engage visitors

A clear history of client satisfaction and dynamic job summaries

Easily identifiable conversion paths that connect visitors with you