LeadsNearby Honored With 2023 IAC Award For Best Professional Services Website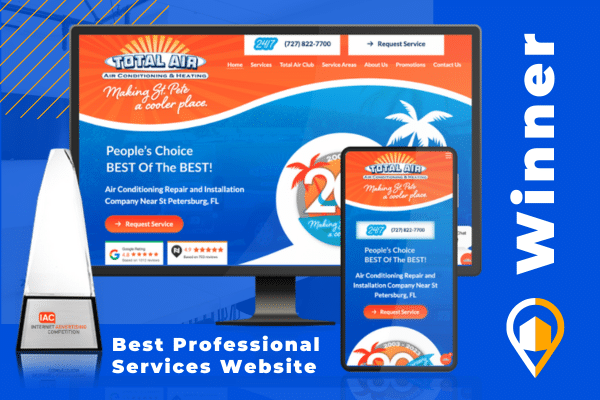 Joseph Garcia, Chief Technical Officer at LeadsNearby, is beaming today. LeadsNearby just picked up their 3rd consecutive IAC Award for Best Professional Services Website - this time for their work on Total Air's totalairinc.net. 
Aaron D. Freedman, the owner of Total Air, Inc., expressed heartfelt gratitude for the work that LeadsNearby did. "LeadsNearby built an outstanding website. From the beginning, we offered them a challenge and they came through for us."  
Joe echos Aaron's high praise for the entire team at LeadsNearby, but especially for the people that put this site together:
Jessica Bermudez - Customer Success Marketer

Kim King & Rosa Shepard - Designers

Allison Mullen - Content Strategist

Jarez Howell - Developer
An Award A Long Time Coming
"We've known the people from Total Air forever, but in 2020, we decided to create a professional relationship," Jessica Bermudez recalls. 
Total Air, Inc. started with a small taste of what LeadsNearby could do for them and saw tremendous results from that initial project. So, when they started deciding how to celebrate their 20th anniversary, Jessica says, "Total Air, Inc. contacted us about a brand new version of their site."
Kim King remembers, "on our initial call, they said they knew this could be an award-winning site. That's what they were shooting for." Inspired by the challenge, Kim worked with Rosa to create a look for the site that would not only bring it in line with the fun feelings the Total Air, Inc. brand is known for but also give the site an appropriately celebratory feel.
Collaboration is Key
For the site to be successful, it not only needs to look good, but it has to sound like the company that St. Petersburg has come to love.
"It's an easy brand to write for," says Allison. "They have such a strong voice and they're game for anything. That lets you do things that keep the site fresh and help it stand out from the competition."
Jessica also stresses the importance of working together. 
"For most people, it's not easy to describe exactly what you want. LeadsNearby listens carefully to the client and generates things that match their vision. But, it doesn't stop there. You have to keep listening as you refine the project together. It's important that you don't get stuck on an idea too early."  
Another remarkable thing for everyone involved with the project was the shared belief that it was their best work. 
When told about the award, Jarez pulled up a screenshot from the day the site went live, predicting that it would bring industry attention. The most interesting part: he didn't know about Aaron's declaration to create an award-winning site at the beginning of the project! 
When told about that mandate, Jarez just shakes his head and says, "we all spoke it into existence."
What Makes LeadsNearby So Consistent?
Joe believes that the company stays at such a high level by understanding what's important to service contractors. "It takes more than just staying up to date with design trends. It's about having a really good beat on our audience. We don't just think about our clients. We design for our client's clients."
Joe concedes, "3 awards in 3 years feel great, but it's not a coincidence."
Why Total Air, Inc.?
When asked how Total Air, Inc. was chosen from all of the great sites built at LeadsNearby, Joe admits that it's always hard to decide which one to submit.  "We do put out a lot of really good-looking sites, but Total Air, Inc. is a model client and that certainly helps. I mean they're huge champions of us and we are of them." 
"They go the extra mile," Jessica adds. "For example, they did a custom photo shoot for the site. That kind of initiative makes sure that LeadsNearby has everything we need to put their products and services in the best light possible."
Another important factor in submitting this site is how well it performs. 
Joe does not mince words. "Our goal is to drive leads and ultimately revenue for our clients. With the new site, they are already up 20% over last year, and that's during their slow season! We're excited to see what this site is going to do as people start thinking about air conditioning service!"
The 2023 Internet Advertising Competition Awards
Created by the Web Marketing Association, The Internet Advertising Competition Awards are given out for excellence in online advertising. The IAC Awards cover many different types of online advertising, including videos, emails, and social media. This competition is rewarding because it lets companies show off their best advertising work and be compared with others in the same industry.
If you'd like LeadsNearby to put together an award-winning site for you, schedule a free marketing consultation with LeadsNearby's President and Co-Founder, Mark Sherwin. Call 919-758-8420 today to work with a full-service digital marketing agency that caters to local service contractors!
Building Your Online Presence Through Real World Interaction
» «
City Fire Success Story
DOMINATE
LOCALLY
Service Providers
Trust LeadsNearby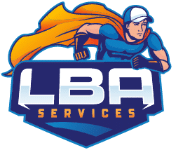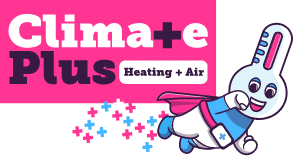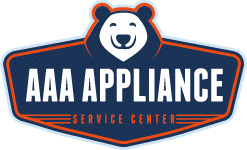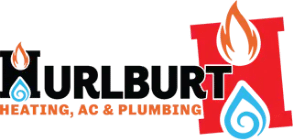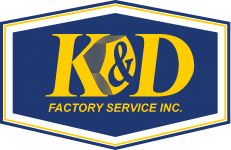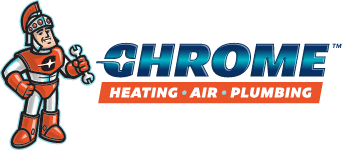 DRIVE RESULTS
/
25 Minute Consultation