Drive More Customers Toto Your Listing with a Shorter Google My Business URL
Google My Business (GMB) now allows you to create a shorter URL, or short name, for your profile. You can use this shortened URL to direct people to your GMB profile. LeadsNearby urges you to make a short URL today before someone else gets the name you want. Read further to learn how.
What's The Value of Short Names to Your Business?
A shorter, more identifiable URL makes it easier to direct people to your Google My Business profile so they can leave you reviews, easily find your contact info and see your photos and posts. It also makes it easier for you to put this link into other marketing materials such as your business card.
For example, instead of using a long unappealing link like this:
https://www.google.com/maps/place/LeadsNearby/@35.7390942,-78.8065857,17z/data=!3m1!4b1!4m5!3m4!1s0x89ac897a895ae0e5:0x2a966f7334081cdb!8m2!3d35.7390942!4d-78.804397
You can direct users with a link like this:
g.page/leadsnearby (sample only)
How Do I Make a Short Name?
If your company is verified in Google My Business, making a short URL is easy:
Log into your GMB profile.

Click the "Info" tab on the left.

Click the @ icon between your phone number and website on the menu to the right.

Create your short URL!

Additional Information About Short Names
You can make your short name between 5 and 32 characters long. It can include your business name, services (AC, electrician etc…), your location and any other info you want, as long as Google's short name policies are not violated.
You'll be able to change your short name URL 3 times each year (see update below).
As far as we know, including keywords in your short URL will not provide any SEO value, but feel free to use a keyword if you wish. If you find that someone else has claimed a short URL that you wanted, don't worry! You can still use hyphens or slashes to get something similar:
For example, if your local competitor claims this short URL:
g.page/kentuckyhvac
You can create something similar like these:  
g.page/kentucky-hvac
You may encounter an error message when you try to make your short URL. If you see this image, it means that either the name you want is already taken or it's not available. Simply try to create another short URL and see if it will be saved.
Call LeadsNearby today at 919-758-8420 if you have any questions or need assistance setting up your short URL!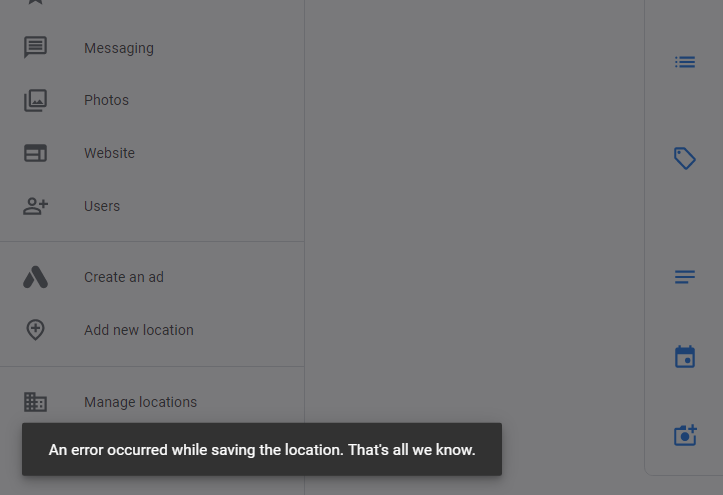 UPDATE JUNE 2021
GMB PHASES OUT SHORT NAMES
As of June 2021 you can no longer create a new Short Name or update an existing Short Name.
If your business currently uses short names, the links and campaigns you have associated with them won't be affected. Short names and URLs that already exist will still work.