The Benefits of Google My Business Post
Google Post helps you to advertise your brand, products, sales, specials, events, and offers — for free on your Google My Business (GMB) listing.
These Post can help you reach more customers and entice them to interact with your business directly from Google Search. Improve your audience's experience with videos and photos and provide information right when they want it.
Your posts will appear on Google services across the web, like Maps and Search and will show up in your local GMB knowledge panel/graph. They must comply with Google's policies to appear.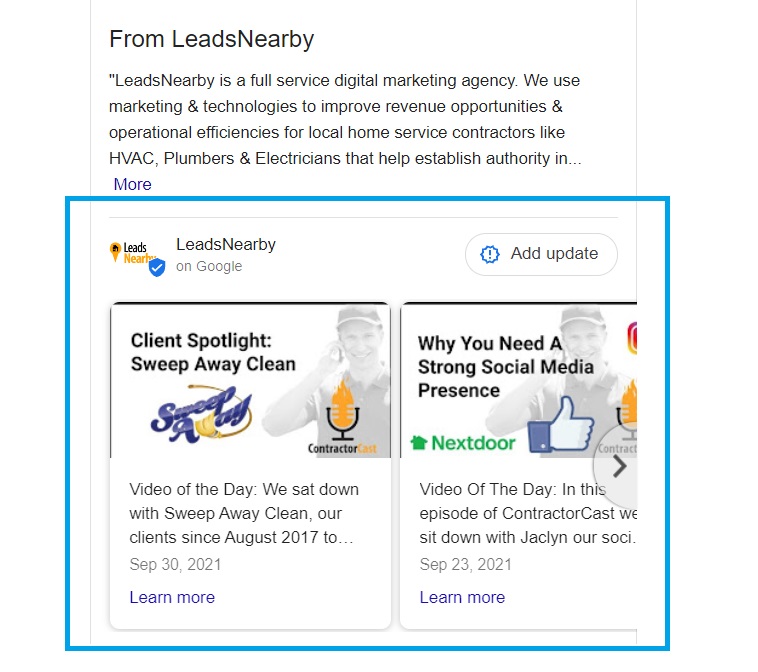 Google has said that Google Post have no measurable impact on rankings.
But there are additional benefits showing that Google Post can and will improve CTR, engagement and your overall brand if used effectively which will lead to more LEADS for your local business.
GMB Offers Several Types of Posts
"What's New" Post
This is the most versatile Post because you get to decide "what's new" with your business. It can provide any general information about your company, like photos, videos, descriptions, or sharing new services.
Event(s) Post
Use this to tell people about an event you're hosting. This includes:
Event name
Dates/times
Event details
Event link
Offers Post
This is similar to the Event type. Use this to communicate sales or offers for specific products.
Products Post
Tell customers about product features, benefits, and details.
Covid-19 Announcement Post
Use this to post critical updates concerning Covid-19 protocols (business changes during the pandemic) in your area. These are given extra visibility on your listing. If you have a temporary change in hours – use this to tell people.
Google Post Best Practices
Use CTAs – Google offers the following types of CTA options: 

Learn More, 

Order Online, Book, Buy, Sign Up and Call Now.

You'll definitely want to ensure that you link to an effective landing page. You shouldn't link to off site content.
Post Frequently – continually post fresh content for them to show up on your GMB Listing.
Post when your audience will see them – take some time to think about your audience's habits, time zones, commuting schedules, etc. This goes for online as well as real-world habits.
Action Posts – i

f you have a new product that just came in, or a sale going on, these posts focus on asking users to take a particular action (e.g. check out a product or contact the business).

Branding Posts – these  posts give your customers a peek into your company culture, or work to spread your brand's message. If you have a weight loss service, then this could be a motivational post to stay focused and not cheat.
Blog Previews – if you have an active blog or resource section, then you can use Posts to share a preview of new resources as they are posted. The post would then send people to the full article on your website.
Review Showcase – the reviews you've received are assets and showcasing your best ones in a post is a great way to get more exposure.
Guidelines To Follow
These posts (with an exception of events) expire after 7 days (Google could change this in the future if they see the benefit of keeping a post longer than 7 days).

While some post types have character limits, aim to keep things short and direct here.

The first 7 or 15 words will show up in the preview in Search. Users will have to click to read more, so get your message across as quickly as possible.

Try to avoid going longer than 300+ characters, unless you have a very good reason.
If we want to track how these Posts are doing use UTM parameters for your links.
Tip: Hashtags don't work on Google. It's not really a Social Platform. But you can add emojis and they help your post stand out a little bit but make sure that they are "on-brand" if you use them.
Google Post Images
Using your own photos is always the best option. If you have location services switched on your phone – then all of the geo-data is automatically added when you take them and add them to your Post.
There is no need to Geotag images…Google strips this data anyway and it has NO ranking benefit. 
The photos and videos you upload for your posts should be professional-grade, or as close as you can manage. The higher the quality of the image the better. Most mobile phones today can accomplish this.
Take the time and effort to show your best images and photos in order to turn searchers into customers. If you're not confident in your photos, or don't like the way your business is presented – then this is actually a signal that you need to focus on improving your actual customer experience.
Which GMB Post Perform Best?
The GMB Post types that normally receive the best performance were about specials or discounts. 
If you use a Call to Action (CTA) your post can be linked to a page on your website and these post get clicked more often. Without a CTA people cannot get any additional information.
COVID Posts

performed the best in tests because they appear higher up in the local knowledge panel. 

Posts with Titles will perform better. Just don't use ALL CAPS.  
You can use emojis for Posts. Like everything else if used effectively they normally get more clicks and conversions.
Tips for Google My Business Post
Post regularly

Make it relevant 

Use high-quality pictures or videos

Keep the text short

Include keywords in your posts (what topic are you concentrating on)

Optimize your landing page
Google is always charging things and Post are no different. One day you'll see something that you can do and the next it's replaced by something else. Don't worry about what Google will change because that is the one thing that Google does…change. Focus on providing the best information for people looking for your service or products while taking advantage of Google Post.
Stay on-top of the most up-to-date features about Google and contact LeadsNearby if you need any help navigating Google Post.