5 Tips To Get the Most From Your Google Business Profile (GMB)
Why Google Business Profile is Important for Your Local Business
If you're a home service contractor, you absolutely need to own and be active in your Google My Business (GMB) account (now called Google Business Profile) to generate more leads & build your brand on Google.
It's free, easy and offers a bounty of Local SEO potential.
Before we get into details, we want to get our main message across first: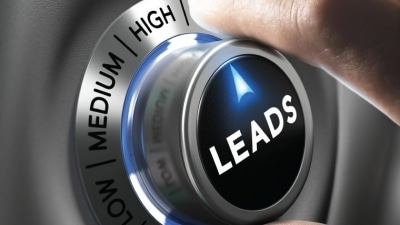 More information about LeadsNearby Google Business Profile Management Service.
We cannot repeat this enough. Google loves it when you interact with its platforms and provide fresh content. You should aim to upload fresh content to your Google Business Profile at least once per month.
Before we get into how to use your profile to your benefit, let's explore what it is and how it works.
What Exactly is Google Business Profile (formerly known as Google My Business)?
Google Business Profile is, at its core, Google's business listing platform. A business profile allows you to manage your Google Listing and help build your Brand on Google.
Your profile helps you to appear in local Google searches and on Google Maps.
Your profile appears to the right hand side of a Google search results page (desktop) within a box called the Knowledge Panel and in the "Map Pack" when people search for services that you may provide. It will also show up near the top of a mobile search if someone is looking for your brand. It also shows up on Google Maps.
Important information like reviews, your hours of operation and contact details helps people to more easily find and learn about your company. It's your opportunity to brand your business on Google.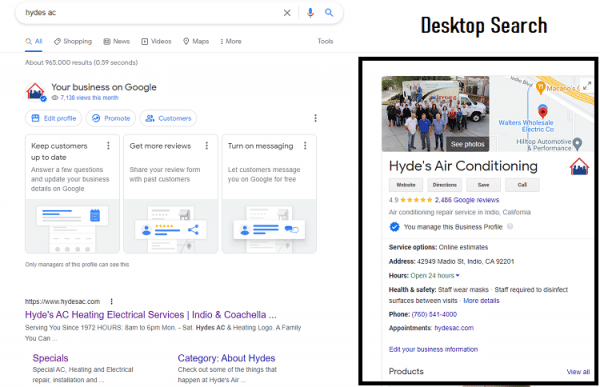 As the bedrock of your GBP account, you need to OWN your listing.
You, the owner of your company, not some Marketing or SEO Agency, have to own it!
There are ways to give someone else "manager" access, which is appropriate, but NEVER let someone else "own" your listing. You'll regret it at some point.
Google Business Profile FAQs
Why is Google Business Profile important for your local business?
Google Business Profile (previously known as Google My Business) provides your company with the ability to show up more on Google Maps and in the local search engine result pages. The businesses that claim, verify and manage their business on Google have more opportunities to be found in local search. It allows you to display important information about your business, including the hours, photos, website link, product and service information, directions to your business and customer reviews that people use to choose your business.
How does Google Business Profile help home service companies reach more customers?
A Google Business Profile helps ensure that people find your business when looking for products and services that you offer in your local area. Your listing provides searchers information about your business like where and how to visit your business, how to contact your business and leave a review and learn more about who you are. A Google Business Profile also improves your local SEO.
How do you improve your local search results on Google?
Here are some easy ways you can optimize your Google Business Profile and improve your local search rankings on Google:
Claim and verify your listing.

Stay active, update and make sure your business information is accurate.

Enter complete data about your business.

Add high quality images that represent your business on a consistent basis.

Generate reviews on a consistent basis and respond to them when you get them.

Choose relevant categories for your business.
What do I need to set up a Google Business Profile?
To create a Google Business Profile, follow these steps:
Go to Google Business Profile: https://www.google.com/business/.
Choose to Sign In or Manage Now (top right corner).
Click Create a profile.
Enter your business name.
If you don't see your business name add your city and choose the information that populates about your business.
In the business category section, you should see a category that represents your business or start typing a service you do.
You'll choose the closest business catetory you can. If you cannot find a category that represents your business select one that is the closest.
Click Next.
Choose whether you have a location customers can visit.
If you have a storefront, enter your business address.
If you don't have a storefront, select Service area businesses.
Click Next.
Add your business phone number and website (if you have one).
Click Finish.
How To Optimize Your Google Business Profile
Not only do you want to stand out from the local competition, you want to provide enough information so that customers can become familiar with your business. You also want to give Google the information that they are requesting in your Profile.
Make sure you fill out every detail about your business within your Profile so Google will show your business information when people search for it.
Ensure that other listings do not exist for your business (duplicate listings). Having multiple listings will detract from the organic search power of your one main listing.
Once your Google Business Profile Listing is accurate, you should start consistently using your Google Business Profile to reap the organic search results rewards.
At a minimum do the following: 
Make sure you fill everything out completely. This includes the right categories, phone numbers, address, hours and business attributes.
Use your business description to describe what your business does and keep this type of information consistent on all your online profiles.
Use Google Posts to promote your business.
Respond to ALL your reviews and consistently get reviews.
Add and update photos on a regular basis.
Here are 5 Ways to Use It to Your Advantage & Get More Leads:
1. Create Google Posts
A Google Post is basically free advertising real estate on Google and provides a great way to entice searchers to choose your company. Posts should be used to generate interest in your company and can include:
What's New (company updates)
Events
Offers: promotions, specials and coupons
Products and Services
Employment opportunities
Posts can easily be made and published from your smartphone via the GMB Mobile App or from your desktop dashboard.
Your posts can appear in Google's search results based on a user's search and your post's content. A post can be viewed in your business's Knowledge Panel as well as on your Google My Business site (if you have one) and Google Maps (they can show in a lot of different Google platforms).
2. Publish Images Often
Searchers favor seeing photos when making decisions and so does Google. We know HVAC, Plumbers and Electricians don't take great images or what they can take images of is boring. But if you want to stand out from your competitors you need to make the effort to do this consistently especially on Google. Those that do will see improvements.
Google data shows that companies–such as local home service contractors–that add photos to GMB pages see a 35% spike in clicks to a website over companies that do not include photos. Brick and mortar stores who use photos see a 42% increase in requests for directions to their locations over stores that do not use photos.
Your potential customers will judge your business based on the photos that you add to your profile. Make them as professional grade as possible.
First impressions matter and picture is still worth a thousand words. The images that represent your business are very influential and key to your business "looking good" on Google. Images will help boost visibility, engagement and click-through rates for your Business Profile if they are well represented.
Conveniently use the GMB Mobile app to upload images of your techs providing service. If that's not feasible, upload new pictures at least once a month.
3. Make Sure to Check That Your Company Information is Correct and Up-to-Date at all times
Google continuously updates information in your Business Profile and most of the time business owners may not even notice. Some of these updates happen directly from Google but other updates can be from any user. Your competitors can also update your information that may not be correct so it's very important to keep an eye on all the information that is listed on your Business Profile.
4. Encourage Reviews
Encourage and consistently get reviews on Google to help improve trust with customers. The reviews cost you nothing nothing and can help improve your brand awareness and trust for people organically searching for your business and services. Trust us people are looking at every businesses reviews. People who look up home service contractors in their area will be more likely to trust your business if they see you have reviews (the more the better) and those reviews show you provide 5 Star Service (or as close to it as possible) in your local area.
It will take a little work on your part but the ROI will be outstanding!!!
You can also intelligently "push" review request from your dispatch software if you are partnered with LeadsNearby. With the right review software, you can request a Google review from customers who are already logged into a Google account. Collecting more positive Google reviews works to better your star ratings for any Local Service Ads you may employ too. Use your Google Business Profile to view and manage these Google reviews.
5. Respond to Your Reviews
Respond to ALL your reviews, both positive and negative! Businesses that respond to reviews are seen as more trustworthy than businesses who don't. Don't miss this important opportunity. Responding to reviews will support trust-building. It will give you an opportunity to humanize your business, show customers you care, and demonstrates professionalism which will help your business stand out from the crowd. It shows you value your customers and the feedback that they leave about your business too.
When responding, keep in mind that your responses are public for everyone to read.
Remember any legitimate business will receive a few negative reviews. When you respond to them be proactive and reach out to those customers to apologize and empathize (never make it personal) quickly. You'll want to keep your message short and courteous (even if you disagree with the reviewer).
How to respond to negative reviews:
Respond in a timely manner. Customers will appreciate a prompt response.
Stay calm, professional and civil. Never lash out and avoid taking the review personally.
Understand your customer's experience with your business before responding. If someone mentions a problem with a product or service, investigate to see what may have gone wrong. Be honest about mistakes made and steps you've taken (or will take) to remedy the situation.
Apologize when appropriate but don't take responsibility for things that weren't your fault. Be honest and open if you made a mistake.
Offer to talk it over. If this is the first you're hearing of the complaint, invite the customer to email or call so that you can try to sort out the matter with them.
Show that you're authentic and genuine. Sign off with your name (the owner or responsible party) to show you're taking the matter seriously and that a real person is listening.
The way you respond to a negative review will say a lot about your business.
While you may want a negative review to disappear from your Google Business Profile, Google won't remove a review unless it violates their content policy by including something like fake, illegal, or offensive content. In our opinion a couple negative reviews proves you are a real business too. No one get's all 5 Star Reviews and if they do then something isn't right.
Update (November 2021): Google My Business is now Google Business Profile
Google My Business is now known as Google Business Profile as Google migrates GMB features to Maps and Search.
Google renamed Google My Business to Google Business Profile in early November 2021. It is bringing more of the business profile management out of the Google My Business APP and directly into Google Search, Google Maps and those respective apps.
Google over the years has changed the name from Google Local to Google Places to Google+ (Local) to Google My Business and now Google Business Profile.
It seems Google is trying to encourage businesses to manage their single listings directly on Google Search or Google Maps, either via the web interface or mobile apps. You may still be able to use your GMB Dashboard but that may be phased out if you only have 1 listing to manage in the future.
LeadsNearby Wins Best Professional Services Website At IAC 2022
» «
Google Posts: Why It's Important To Your Business
DOMINATE
LOCALLY
Service Providers
Trust LeadsNearby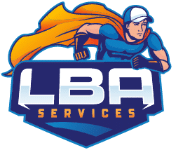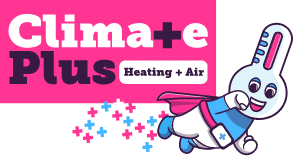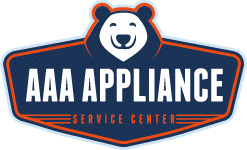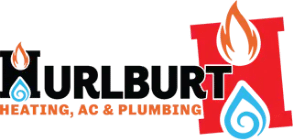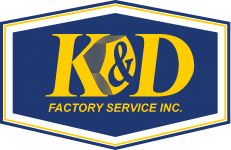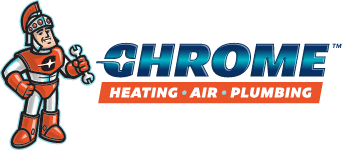 DRIVE RESULTS
/
25 Minute Consultation