Hobaica Services Success Story
How Hobaica Wins Business With A People-Driven Philosophy
"It's a people business!"
That's how Louis Hobaica sums up his company's connection to his team members and his customers.
Founded in 1952, Hobaica is a family-based company that provides heating, air conditioning, and plumbing services to Phoenix and surrounding areas. The company's focus on relationships even carries over to Hobaica's marketing partners.
Relationships Are Key To Marketing & Growth
When Louis and his brothers, Paul and Mike, also co-owners of the business, began working with LeadsNearby in November 2014, they started a long relationship highlighted by shared interests and goals that turned into a lasting, successful partnership. It resulted in:
A 200% increase in top 10 search engine rankings.

An average 2,100 monthly increase in site visits.

More than $1.2 million in additional revenue attributed in part to retargeting campaigns.

Website conversions that resulted in $1.61 million in total booked revenue over 13 months.
While LeadsNearby's marketing efforts resulted in much of that success, the catalyst behind the results was Hobaica's strong relationship between its team and its customers.
Reviews & Traffic
In late 2014, Louis, Paul and Mike needed a review platform that tracked reviews by team member; it needed to be a system that fit within their model of rewarding team members for 5-star online reviews.
The 3 Cs of Hobaica
Everything Hobaica offers, sells, communicates, installs, services or performs has to align with their three Cs philosophy. It has to meet the best interest of the:
Customer
Company Representative (team member)
Company
If it meets all three, it's a win-win for everybody.
"When you treat your team with more value, they'll treat their customers with more value and will want to cultivate that relationship," says Louis.
Each team member, including office staff, can earn from $500 to $4,000 per year toward vacations based on the reviews received.
Hobaica learned that the review tool Nearby Now would solve their problem. A colleague recommended LeadsNearby to get them started.
With a consultation from LeadsNearby co-owner Mark Sherwin, a relationship was born. Starting in January 2015, Hobaica team members began using Nearby Now during their daily work routines to:
Request reviews from satisfied customers.

Perform geo-located, keyword-rich job check-ins for each service visit.
Integrated with Hobacia's website, Nearby Now automatically added the reviews and check-ins to appropriate city pages. The result? Between January 2015 and March 2016 Hobaica's team members:
Added 3,787 keyword-rich dynamic check-ins to the website.

Collected more than 1,894 reviews for the website.

Increased Google Reviews by 1,000+ while maintaining an average 4.9 rating.

Helped increase Top 10 Google rankings by 1038%.*
*Top 10 Google rankings for important locally searched keywords increased from just 26 to 296.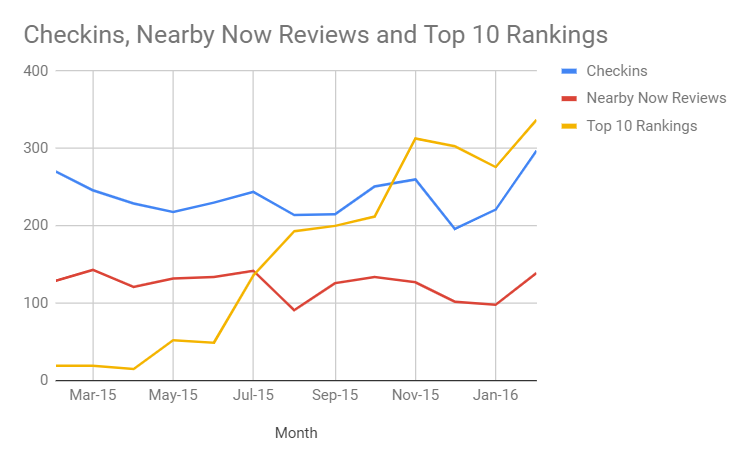 Best of all, Nearby Now solved Hobaica's original problem, using reviews to determine which employees have earned rewards. The tool's Leaderboard feature shows who has the:
Website & Conversions
By 2016, Hobaica was using multiple disparate tools and agencies to perform their online marketing and getting modest results at best. They wanted to consolidate, so they called their trusted friends at LeadsNearby.
The first job for Hobaica's new strategic partner: redesign the website. With rankings increasing, thanks to Nearby Now, Hobaica needed to attract visitors to their site and keep them there.
In March 2016, LeadsNearby launched a new Hobaica website aimed at:
On-page SEO focused on each product and service.

An SEO-friendly website structure that search engines understand.

Mobile optimization for tablet and phone users.

Easily navigable interface directing visitors toward conversions.

Regularly added stories that show Hobaica's personality.
The results show average new site visits rose 222% when comparing the 12 months prior to the new LeadsNearby-built site and the 12 months after.
| | New Visits Overall | New Desktop Visits | New Mobile Visits |
| --- | --- | --- | --- |
| 12 Months Before Site Launch | 974 per month average | 642 per month average | 248 per month average |
| 12 Months After Site Launch | 3,139 per month average | 715 per month average | 1,611 per month average |
| Overall Increase | +2,165 per month average | +73 per month average | +1,363 per month average |
Mobile Visits Increased
12 Months Prior to New Site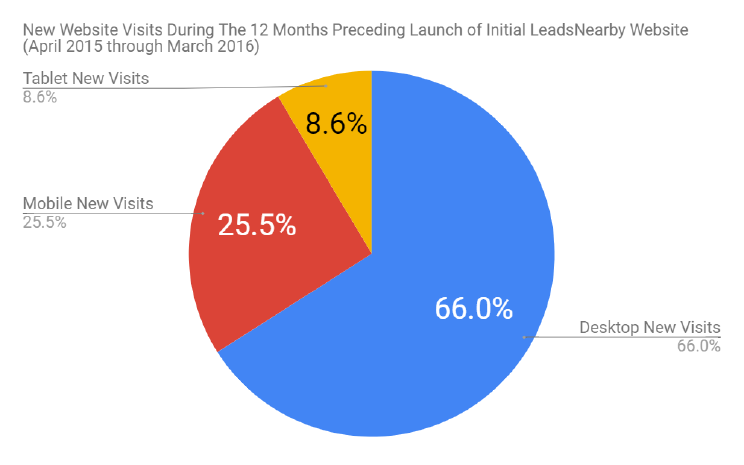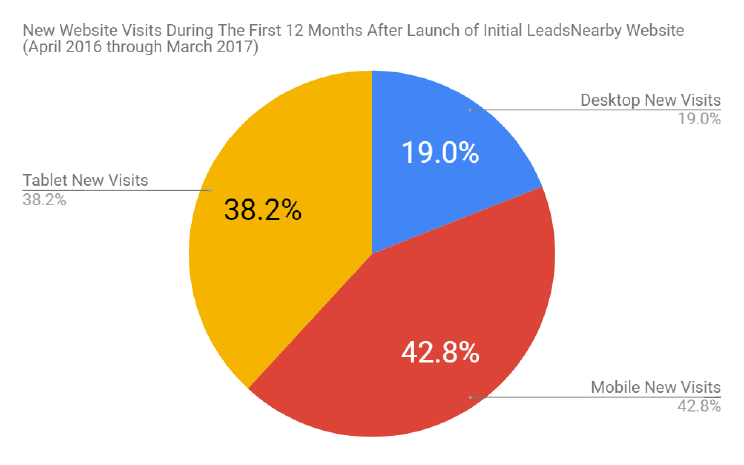 As you can see from the two comparison charts, the new website's focus on mobile visits helped Hobaica increase mobile traffic by nearly 68% when comparing the 12 months prior to launch to the 12 months after launch.
Mobile visits alone increased nearly 550% during that time. This is a clear example of both:
The trend toward mobile search.

The new site's mobile-optimized design.
Advanced Technology & Integration
While Hobaica was using its enhanced presence to grow in the Phoenix area, LeadsNearby began strategically rolling out advanced technology to boost the company's efforts even more.
LeadsNearby built Hobaica a custom App in the summer of 2017 to keep them in front of its customers. The mobile app enables customers to schedule service, find useful information, refer a friend and collect rewards.
LeadsNearby themed the mobile app in Hobaica's new brand, which was launched in the Summer of 2017. Then in the Spring of 2018, when Hobaica switched to ServiceTitan, LeadsNearby integrated the mobile app and all of its other digital marketing services with the dispatch software.
The Service Titan Integration enabled Hobaica to streamline and automate the following processes:
Check-ins: Hobaica's technicians can now write Nearby Now check-ins right in ServiceTitan job description.

Reviews: With the use of a hashtag, technicians send a review request from ServiceTitan through Nearby Now.

Scheduling: Schedule forms completed on Hobaica's website feed directly into ServiceTitan, where Hobaica's CSRs book the appointment.

Re-Marketing: Pulling the robust customer data stored in ServiceTitan, LeadsNearby can now retarget past Hobaica clients.
New Brand, New Site
In March 2018 LeadsNearby launched Hobacia's newly designed website that reflected the company's new brand, new services and new capabilities. From the site's images and videos to its content and navigation, it told Hobaica's family-friendly story while focusing on leads and conversions.
LeadsNearby added multiple website development elements, including:
An easy scheduling tool located in page sidebars, which is integrated with Hobaica's field software, Service Titan.

Mobile designs created to account for people's visual and clicking tendencies.

Moving aspects, such as sliders and pop-up coupons, were reduced so the visitor would not be overwhelmed.

The main navigation bar remains at the top of pages to remind customers of all services offered.
Website leads to Hobaica, in the form of contact form submissions, calls and chat conversations, steadily increased while booked jobs also increased. From March 2018, when the new branded site launched, to March 2019, the number of booked jobs from the website topped $1.61 million.
Rankings
This chart shows how Hobaica's website Top 10 Keyword Rankings progressively increased as they used Nearby Now, a LeadsNearby website and then a redesigned website.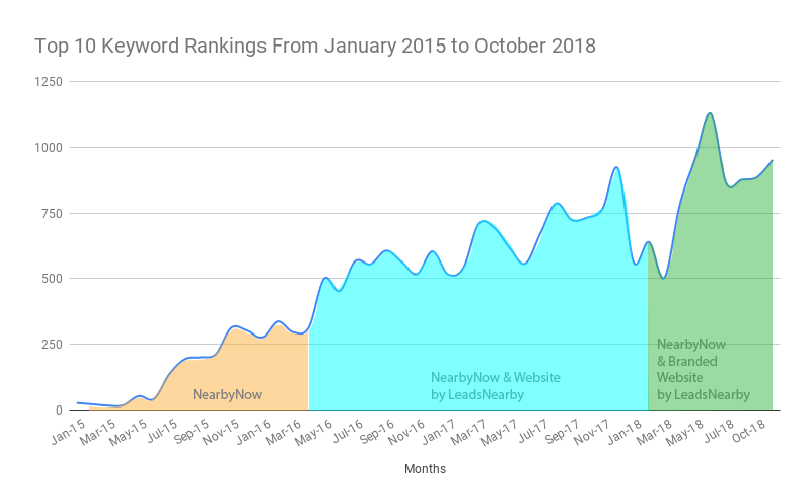 Visits
This chart shows new visits to Hobaica's website and the correlation with different services implemented by LeadsNearby.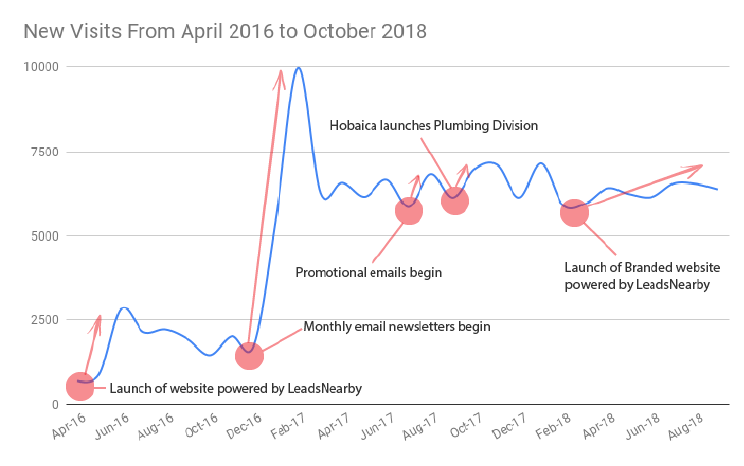 Conversions
In the chart below, we compare Hobacia's total booked revenue from the website. The first row shows the three months immediately before going live with LeadsNearby's branded redesign with advanced features to the same three-month date range a year after the new site's launch. That's a 20% sales increase from the same timeframe a year later.
| Date Range | Average Booked Revenue | Total Booked Revenue |
| --- | --- | --- |
| Dec 2017 – Feb 2018 | $55,817 | $167,453 |
| Dec 2018 – Feb 2019 | $67,516 | $202,550 |
The Value of Re-Engagement
With relationships being key to Hobaica's success, the company began implementing LeadsNearby's Automated Customer Engagement (ACE) program, which pulls data from ServiceTitan to send targeted emails to past customers.
The entire goal of the ACE program has been to keep Hobaica top of mind for all of the customer's service needs.
To do so, LeadsNearby helped Hobaica provide relevant information and offers to past customers. As a result of these emails, plus other Hobaica activities such as follow-up phone calls, these customers contributed an additional $1.2 million in revenue to Hobaica from June 1, 2018 to February 28, 2019.
The email part of each campaign regularly earns more interaction than the national average of all professional service industries, according to Mailchimp statistics. The first Abandoned Estimate email alone sees an average open rate almost triple the national average; its click-through rate is more than six times the national average.
| Measurement | Average Booked Revenue | Total Booked Revenue |
| --- | --- | --- |
| Open Rate | 57.62% | 20.77% |
| Click-Through Rate | 12.24% | 2.39% |
"We can connect the revenue attributed to the marketing automation emails. We see more real-time data and how that is linking to our opportunities. That is huge. We're seeing a big benefit there," says Louis.
But it was about more than just the additional revenue generated.
"Marketing Automation has allowed us to communicate more consistently and effectively with our customers," says Louis. "Building relationships is what we're all about. Plus, it's important to keep in touch with customers using a consistent message to make sure they remember that we are the most likable people they'll ever meet."
Connections Made. Commitments Kept.
Because of LeadsNearby's hard work and Hobaica's dedication to its marketing, Hobaica has been able to stay in front of its customers and use that momentum to grow. The growth allowed Hobaica to add a plumbing division in the Fall of 2017, an electrical division and a security and home automation division in early 2019.
That growth would not have been possible without relationships. For Louis and his brothers, it all comes down to connecting with people, whether it's their customers or their marketing partner.
"Call us old school, but we know that when we find someone who is good for us, and we are good for them too, we cultivate that relationship and are committed to it when it continues to work. We like personal communication. We like the sharing of concepts and ideas. If we didn't have that, then life would get pretty boring."
Barbosa Mechanical Success Story
» «
Northwest Fire Success Story
DOMINATE
LOCALLY
Service Providers
Trust LeadsNearby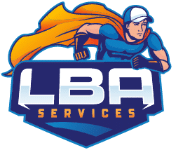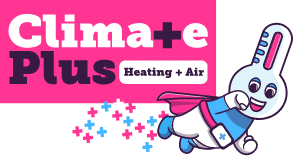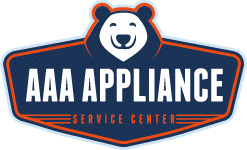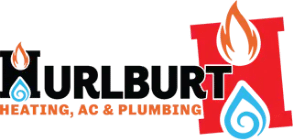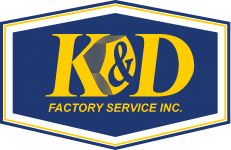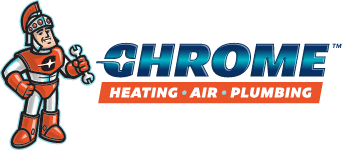 DRIVE RESULTS
/
25 Minute Consultation