Control The Conversation for $199!
A new all-in-one chat, talk, texting and scheduling technology gives you an easy, less time consuming way to have more meaningful conversation with your website visitors than any other chat service. Don't be fooled by chat services claiming to use A.I, or other chat services that depend on the human element. Pro Service Chat uses conversation flow technology to create the most robust, feature rich chat tool in the market today.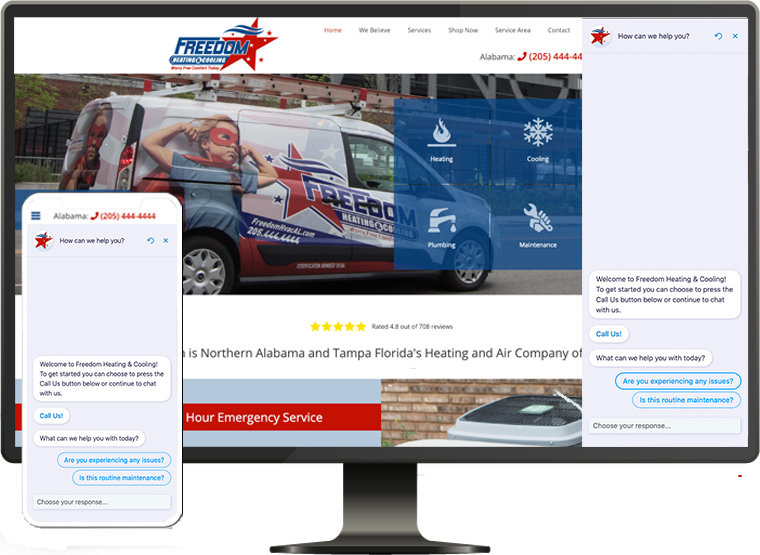 Integrates with most of your favorite CRM, Marketing and
Payment platforms
Pro Service Chat connects with over 1,000 apps allowing you to easily check in with leads, put them in your email campaigns or push into your favorite CRM for effortless lead conversion.
With Conversation Flow
LeadsNearby's new Pro Service Chat is perfect if you want:
Optimize the conversation experience with your customers and your staff.
More qualified leads: Spend less time field calls from website visitors who are just "price shopping". Make the most from each visitor of your website.

Increased customer engagement – Now your customers can speak to you the way they want. Pro Service Chat opens up all communication channels to your customers.

Less work for your CSRs: Powered by A.I. your CSRs don't have to waste any of their time making sure they are near a computer to communicate with potential customers. Pro Service Chat gives you a virtual CSR 24/7/365!

Less work for your CSRs: Pro Service Chat was created to get you the most qualified leads. Your CSRs dont have to waste time wondering what services customers need, or be concerned about having important contact information.
Ready to make conversions easier
and CSR follow-up calls shorter and more profitable?
Best of all, we can incorporate Pro Service Chat on any website, whether LeadsNearby has built your site or not!.
To learn more about Pro Service Chat and what it means to you, call LeadsNearby at (919) 758-8420.