LeadsNearby is a certified reseller and partner of Nearby Now
Regardless of your company's size or what technology you use, Nearby Now will help you take control of your reputation and generate more leads.
This powerful reputation builder platform manages customer reviews and staff check-ins. We help your website rocket to the top of search engines for relevant searches in your area! This is an innovative application for empowering local business lead generation.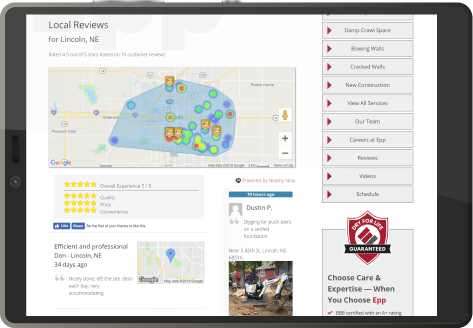 Get More Positive Reviews
Studies show that the best time to ask for a review is immediately after completing the job. Nearby Now lets you ask for it before you leave the customer! We make it so easy that our clients average more than a 40% review response rate.
Dominate Local SEO
Easy integration provides search ranking benefits for your own website. Every checkin and every review drops a pin where your satisfied customers are, building a bigger reputation footprint every day to send you to the top of Google's rankings everywhere you work!
Easy to Use
Check in with iOS, Android, and mobile web describing every time you serve a customer. Add photos, and soon, videos. Easily share checkins and reviews to Facebook, Twitter, Google My Business, and more.
Team Leaderboard
Challenge your team to get the most reviews with the team leaderboard. View rankings on a daily, weekly, and monthly basis from our native mobile apps. The live team map keeps you up to date on the last checkin and location from every member of your team.
Real-Time Reporting
Schedule, save, and share comprehensive real-time reports for reviews, team leaders, checkins, team activity, city activity, site traffic, and customer information.
Full Data Ownership
You own the data Nearby Now helps you create, and you can export it any time. You'll stay with Nearby Now because of the results, not because we hold your data hostage.