In CS Analytics, the CS stands for Client Success!
LeadsNearby prides itself on providing success for our clients. Like many agencies, for years we've used standard ranking reports and Google Analytics as a barometer of your online marketing program's success.
But that all changes with Client Success Analytics, the most comprehensive and powerful reporting tool in the industry!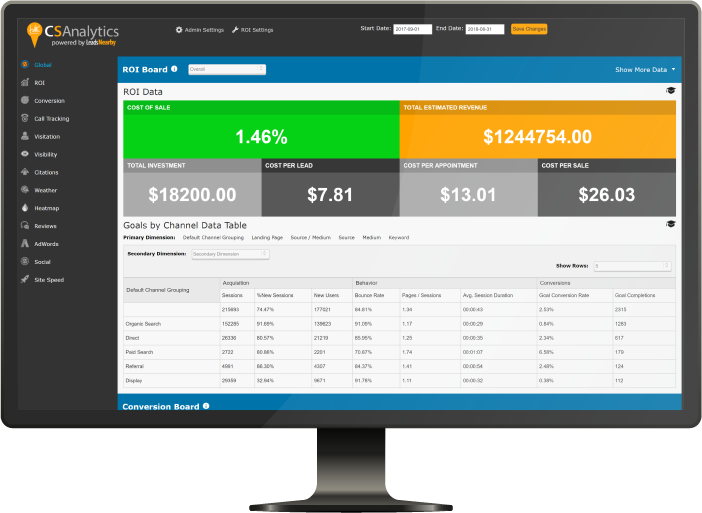 CS Analytics merges the more traditional reporting tools with a proprietary analytics algorithm to give you specific insights into your online marketing program and provide you with actionable intelligence to transform your business.
It gives you an end-to-end view of your entire online marketing program, from marketing activity to search result to visitor sessions to lead conversions to return on investment.
Track Conversions: Pinpoint the opportunities from website forms, live chat and calls

Find Your Cost of Acquisition: See the cost of earning new opportunities and converting them to customers

See Your Exact ROI: Compare your customer acquisition cost to your online marketing cost

Understand Weather Impact: Compare ongoing business activity to weather data.

Choose Effective Promotions: Use Weather Predictions to plan the best promotions for your area.

Analyze Customer Calls: Recorded phone calls enable you to hear your customer service from a different perspective

Conversion Rate Optimization: User heatmaps and visitor recordings show you exactly where your visitors click on your desktop or mobile site so we can optimize your conversion rate

Gain Visitor Insight: Find what locations visitors come from, what devices they use to find you and what action they're taking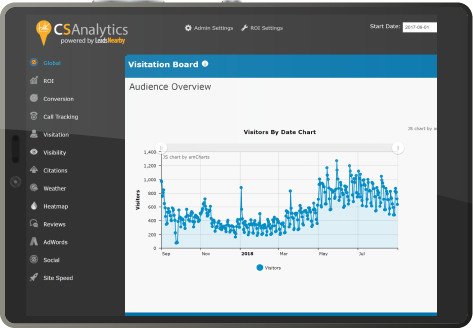 The best part: CS Analytics is already part of your website program. If you have—or sign up for—a website with LeadsNearby, you automatically get CS Analytics. The more online presence programs you have with us, the more intelligence we can give you to transform your business.
To learn more about CS Analytics and what it means to you, call LeadsNearby at (919) 758-8420.