Changes to Google My Business and Map Listings
Will Map Pack Go Away in Lieu of a New Google Profit Center?
Written by Brian West
For a few years, a local service company could rely on creating a well-optimized Google+ My Business page to give them easy access to high rankings in the Map Packs section of the SERPs (Search Engine Results Pages), especially in low competition market areas. This now seems to no longer be the case. Google has incrementally been altering how My Business Listings and Maps Listings are displayed in the search results and may be transitioning away for showing them in the SERPs at all.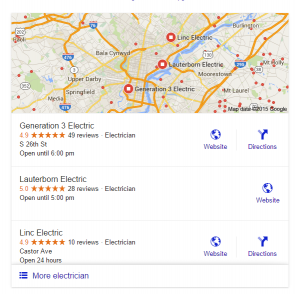 About a month ago, the "Map Pack" which contains only relevant local businesses on searches with local intent, was reduced from 7 results to 3 and its display layout was changed. The address and phone number no longer display on on the initial "Map Pack" display, requiring an extra click from the user to bring up a separate maps page with information from several matching companies. The direct result of these changes is the loss of visibility for many companies in the Map Packs results.
Now, links to Google+ pages and company reviews for branded searches have been removed from searches altogether. End Users can no longer access traditional Google+ My Business pages, almost at all. A potential customer can only access some of the information entered on the My Business account in the sidebar maps display on branded searches, and in the now smaller map pack results for local search queries.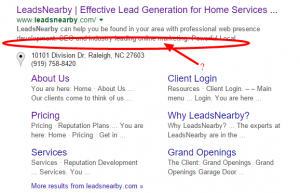 These changes mean that Google Reviews are only visible 2-3 clicks from the standard search result, reducing the general visibility of reviews on a given company. We do believe, however, that Google has not reduced the amount of weight they give to reviews.
From Map Packs to Sponsored Ads
Running quietly in the background during these changes is the beta testing of the new Google Home Service Ads program in San Francisco, which could signal an end to traditional Map Pack/Google+ results altogether.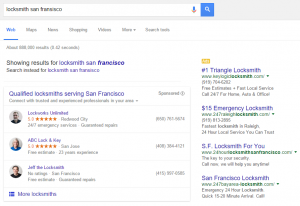 In the San Francisco area, there is no longer an organic Map Pack section when doing searches for locksmith, plumber or handyman. We see this as a strong signal that Google plans to transition their non-paid beta version of the Home Services Ads program into paid listings that replace the organic Map Pack section for matching searches with home service intent(plumber, electrician, etc). We believe this change will happen gradually in major cities across the country.
If this transition does happen, home service companies in these cities will have to not only pay for ads but also pass stringent quality guidelines in order to compete in many local searches. Also, reviews will most likely play a major role ranking and effectiveness of a paid Home Service Ad. Google will even go so far as to enlist secret shoppers to monitor company performance, which can directly impact ad rankings.
For qualifying home service businesses, a change toward paid local listings will on one hand give paying companies more control and direct access for local search visibility, while simultaneously pushing out smaller, up-and-coming companies that cannot afford to compete.
If Home Service Ads evolves into a competitive bidding environment similar to Adwords, it will also change the core nature of this local search niche, giving the highest bidder preference over traditional organic search. This would be a radical shift in the historic attitude taken by Google in regard to all search results, which allowed small companies to be able to compete with larger brands if they were able to publish quality content and leverage social media to generate clicks and customers. Instead, the preference is given to companies with large advertising budgets.
The standard organic search results will likely not change, but they will be pushed down below the Home Service Ads as they are now in San Francisco for the selected queries.
There is no definitive answer as Google remains mysterious regarding its future plans for Home Service Ads. It has, however, been integrated into the Adwords Express platform, and a new landing page has been created, signaling that Home Service Ads very well may be here to stay.
As always, we at LeadsNearby will continue to monitor the situation in order to give the best service/guidance to our clients, and to the Home Service Industry in general.
— Brian West, Product Development Manager for LeadsNearby, works on the technical side of seo new product research and analytical analysis for clients.

Google Unveils New Artificial Intelligence Toolset
» «
Is Your Customer Loyalty Program a Punishment or Reward?
DOMINATE
LOCALLY
Service Providers
Trust LeadsNearby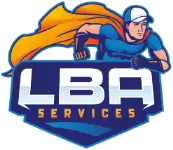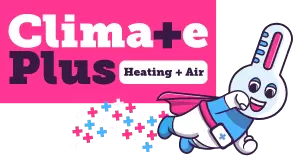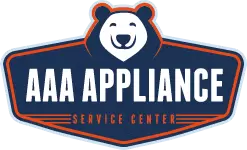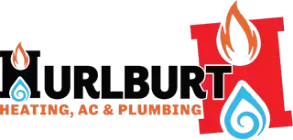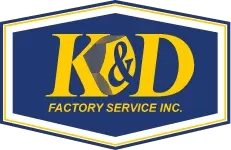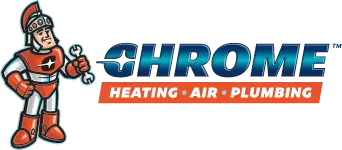 DRIVE RESULTS
/
25 Minute Consultation